Day 1
---
december 26th/26 décembre
Annecy>>Perpignan
Departure on december 26th under the snow/Départ le dimanche 26 décembre sous la neige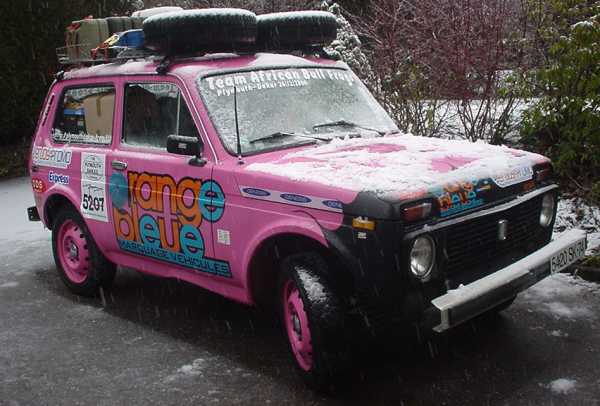 the map of the stage/cartede l'étape
left Annecy at 9.30am> It is snowing qnd 2 degrees. The speed up a small hill is 70kph on the autoroute. Nic feels excited but has reservations about how far the Lada will actually take us. ...
Midday we arrived at Valence, an accident on the autoroute causes a tailback and we are in traffic> Luckily nics mum made us a packed lunch so we feasted on salmon sandwiches, satsumas and sweets. We are having problems with the CD it sounds terrible. Nic's dad has made us a tape to CD conversion which is an assortment of hanging wires and switches> I am not sure how long it will last and we have no back up music, this could be a problem.
I received a text from my mum informing me that my dad is fine after a tidal wave hit Thailand where he is staying. 4pm and the weather is blue sky and cloudy as we appreoach Perpignan. For the past couple of hours we have noticed a rather sulphurus smell and we have decided that it is definately coming from the car and not the surrounding countryside. We will investigate when we arrive at the hotel. It is sunny but very windy. The lada is doing a steady 100km per hour.
5.30 arrived at Perpignonm decided to have a quick look under the bonnet and realised that the battery was smoking. Vapour was coming out of a small tube. 6pm boxing day (Sunday night) everything is closed as we search for a digital volt meter and a cheap car battery. No such luch so we must delay our early start in the morning and get the battery situation sorted.
Watching BBC world news in the hotel i realise the importance of mums text from earlier the death toll is horrific following the asia earthquake> It is good to know that dad is safe i hope he comes back to the UK soon.
On a quitté Annecy à 9h30. Il neige et il fait 2 degrés. La vitesse max de la Lada sur l'autoroute est de 70 Km/h en montée. Nico est content mais émet des réserves quant à la longévité de la Lada. Jusqu'ou nous mènera t'elle ?…
A midi nous sommes arrivés à Valence. Un accident sur l'autoroute a créé un bouchon. Par chance, la mère de Nico nous avait préparé un pique nique. On s'est donc régalé de sandwich au saumon, de clémentines et de bonbons. Nous avons des problèmes avec l'autoradio. Il y a un son affreux. Le père de Nico nous a fabriqué une K7 pour écouter les CD qui est des assortiments de câbles et de boutons…Je ne suis pas sur du temps que ça tiendra et nous n'avons pas de solutions de secours, cela pourrait devenir un problème.
J'ai reçu un sms de ma mère m'informant que mon père va bien après le raz de marée qui a secoué la Thaïlande où il résidait. Il est 16 h, le ciel est bleu et nuageux alors que nous approchons de Perpignan. Pendant les 4 dernières heures nous avons senti une odeur de souffre et nous avons finalement décidé que cela provenait de la voiture et non pas de dehors. Nous allons jeter un œil à la voiture une fois arrivé à l'hôtel… Il fait soleil mais il y a beaucoup de vent. La Lada se stabilise à un bon 100 Km/h.
17h30, on arrive à Perpignan et décidons de regarder rapidement sous le capot de la Lada et apercevons que de la fumée s'échappe de la batterie. De la vapeur sortait d'une durite.
18h00, dimanche soir tout est fermé alors que nous cherchons un voltmètre et une batterie pas chère.
Aussi nous devons retarder notre départ matinal et partir dès que le problème serait résolu.
En regardant la BBC à l'hôtel je me suis aperçue de l'importance du texto que j'ai reçu de ma mère. Le nombre de mort suite au tsunami en Asie est horrible. Je suis heureuse de savoir que mon père est en bonne santé et j'espère qu'il reviendra en Angleterre très prochainement.
Day 2
---
December 27th/27 décembre
Perpignan>>Alicante
We are on the road at 9:15 after Nic replaced the voltage regulator. He luckily brought a spare one with him, a top tip from michel. But now the voltmeter is not working. The sulfurous smell has stopped. Let s hope it s an end to that problem. We are a few hours behind schedule.
11:20 passed through Barcelona, blue sky and wispy clouds. We are doing and average of 90 kph we are rather slow, this is because of all the weight we are carrying and the drag from the jerry cans and spare wheels on the roof. In the afternoon, during Denise's turn to drive, the driver side window handle came off in her hands, couldn t resist her strenght ! Unfortunately the smell is back again and the battery is in trouble. It will need to be replaced. The smell is overwhelming, weather is glorious as we drive next to the sea on our left. The region before Valencia is full of orange tree fields and the region after is full of lemon tree fields. We arrive in Alicante at 7:00PM.
On est sur la route à 9h15 après que Nicolas ait remplacé le régulateur. Il avait heureusement avec lui un régulateur de rechange, un bon conseil de Michel. Mais maintenant le voltmètre ne marche plus mais l'odeur a disparue. Nous espérons que c'est la fin du problème. Nous sommes un peu en retard sur notre programme.
Il est 11heure 20 quand nous passons à Barcelone sous un ciel bleu et des petits nuages. Nous allons à une moyenne de 90 Km/h, nous sommes assez lents ; c'est à cause de tout ce que nous avons sur le toit (jerricans roues de secours). Dans l'après midi, alors que c'était au tour de Denise de conduire, la manivelle de la vitre du chauffeur lui est restée dans la main, ne pouvant résister à sa force ! Malheureusement l'odeur revient et la batterie a encore un problème. Nous allons devoir la remplacer. L'odeur est de plus en plus intense, le temps est magnifique alors qu'on s'approche de la mer sur notre gauche…La région avant Valence est pleine d'orangers et la région après est pleine de citronniers. Nous arrivons à Alicante à 19 heures.
Day 3
---
december 28th/28 décembre
Alicante>>Malaga
We get up bright and early, leave the hotel without having breakfast to save time only to find the car battery has died overnight. Some spanish men give us a jump and we go to carrefour and buy a cheap battery for 35 euros (leaving the old one in the car park for someone else to use...)
Set off at 10:00 AM, our latest start yet. Weather is bright and battery is working well. Last night I slept 10 hours but Nic wasnt so lucky. The result beeing he is tired today and I am going to drive soon. Today we plan to biefly visit Louise and Tim as we are passing the village where they live in Zurgena. On the road again at 2 pm after a brief visit. Kids are huge and the house is lovely. We should arrive in Malaga at 7 pm tonight.
The latest thing to break in the car is the passenger seat belt clasp. Once again performed an A1 bodge and it's working, held together with bright yellow duck tape.
A long and winded coastal road takes us along the south coast of spain direction Malaga. It is extremly windy which makes us slower than normal. We are both looking forward to the short drive tomorrow to Gibraltar. As the sun sets on day 3, we look forward to meeting the other teams tomorrow. Arrived at 7PM, had a refreshing beer and swapped the front and back tyres in the hotel car park.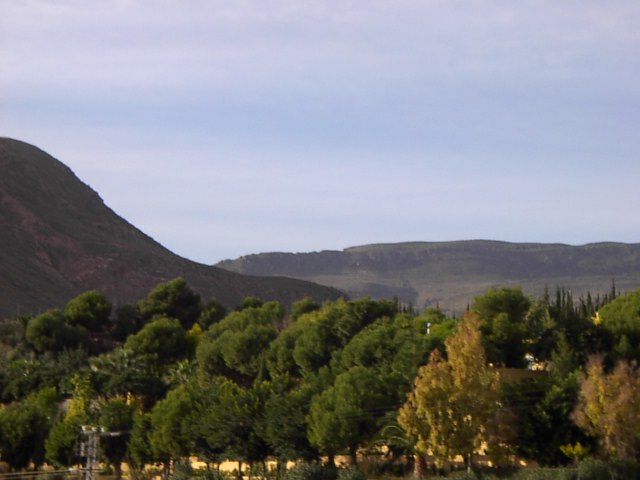 Nous nous sommes levés en forme et assez tôt et avons quitté l'hôtel sans déjeuner pour gagner du temps pour trouver une batterie et remplacer l'ancienne. Des espagnols nous ont donné un coup de main et nous sommes allés à carrefour acheter une batterie bon marché pour 35 euros (en laissant la vieille dans le parking pour quelqu'un d'autre…).
Nous partons à 10 heures, c'est notre départ le plus tard. Le temps est radieux et la batterie fonctionne. La nuit dernière j'ai dormi 10 heures mais Nico n'as pas eu cette chance. Du coup, il est fatigué aujourd'hui et je ne vais pas tarder à le remplacer. Aujourd'hui, nous avons prévu de visiter Louise et Tim alors que nous passons à coté du village où ils vivent : Zurgena. Nous sommes sur la route à nouveau à 14 heures après une brève visite. Les enfants ont bien grandi et la maison est très coquette. Nous devrions arriver à Malaga à 19 heures ce soir.
La dernière chose à casser dans la voiture est le fermoir de la ceinture de sécurité du passager. Une fois de plus nous avons réussi à le réparer.
Une longue route côtière nous amène le long de la cote sud qui mène à Malaga. Il y a beaucoup de vent, ce qui nous ralenti beaucoup. Nous sommes tous deux impatients d'arriver à Gibraltar le lendemain. Au lever du soleil du troisième jour nous sommes également impatients de rencontrer les autres équipes. Nous arrivons à 19 heures buvons une bière rafraîchissante…
Day 4
---
december29th/29decembre
Malaga>>Sotogrande
Left at 9am direction Gibralltar. It's rather cloudy today, a bit windy still but blue sky can be seen.
Arrived at 10:13, it's so great to see the other teams, an ice cream van, jeeps, mercedes etc...
7km out of Gibraltar we are stuck in traffic, found an other team borken down, we stop to help them, team "dingbat and wombat". It's 21degres in Gibraltar and the "fish and chips" are lovely. We are off to do some last minute shopping before heading back to the hotel for our team meeting.
A general gathering was assembled although 8 teams are still "en route" to the hotel. After the meeting we bought boat ticket for 84 euros. Went to the local marina, got some cash and had chinese. We were joinded by Ron, Wombat and Dingbat. Back at the hotel there were no more rooms so we had to have the "suite room" with a jacuzzi bath, Nightmare!
Nous partons à 9 heures en direction de Gibraltar. C'est un peu nuageux et venteux aujourd'hui mais on peut apercevoir du ciel bleu. Nous arrivons à 10 heures 13, c'est vraiment bien de voir les autres équipes : le camion glace, la jeep, la Mercedes etc.
A 7 Km en dehors de Gibraltar nous sommes pris dans un embouteillage, nous rencontrons une autre équipe (l'équipe « ding bat and wombat ») qui est en panne et nous nous arrêtons pour les aider. Il fait 21° à Gilbratar et les « fish and chips » sont excellents. Nous sommes allés faire du shopping de dernière minute avant de retourner à l'hôtel pour une réunion avec les membres des autres équipes. Après la réunion, nous avons acheté un ticket de bateau pour 84 euros. Nous sommes allés à la Marina retirer de l'argent et avons mangé chinois. Nous avons rejoint Ron, Wombat et Dinbat. Il n'y avait plus de chambre nous avons donc eu une suite avec un jacuzzi à l'intérieur !
Day 5
---
december30th/30décembre
Sotogrande(SP)>>Meknes(MA)
Left at 8:00am and took the boat from Algesiraz to Ceuta. Arrived in Ceuta and managed to get an entry stamp to get into Morocco after an hour but it was a complicated process. People along the road are very welcoming, the kids wave at us and we never miss a chance to return the favour, adding a "beep beep" on the horn.
The roads are in poor condition although it is better now that we have passed Chefcheouan. We see old ladies carrying heavy loads on their backs. Donkeys are used to power olive mills and plow the earth... we have gone back in time already.
Arrived in Meknes and found an ibis hotel along with a few other teams. We are extremly happy to arrive before the porsche ! We went out for a traditional meal with David, Brett, Simon and Ben which was enjoyed by all.
Nous sommes partis à 8 heures et pris le bateau d'Algeciras pour Ceuta. Arrivés à Ceuta nous avons réussi à obtenir des timbres pour rentrer au Maroc après un processus compliqué d'une heure. Les gens au bord des routes sont très accueillants, les gamins nous font des signes et on n'oublie jamais de rendre la pareil en ajoutant un coup de klaxon.
Les routes sont en mauvais état bien que ce soit mieux depuis que nous avons passé Tetououan. On voit de vieilles femmes qui portent de grosses charges sur leur dos. Les ânes sont utilisés pour faire fonctionner les moulins à olives et labourer la terre comme dans l'ancien temps.
Arrivé à Meknès, nous trouvons un hôtel Ibis avec d'autres équipes, nous sommes très heureux d'arriver avant la porsche !!!!! Nous sommes sortis pour prendre un repas traditionnel qui fut apprécié de tous
Day 6
---
december31st/31decembre
Meknes>>Marrakech
Set off from Meknes to Marakesh. We are taking the motorway today. Obviously there is less to see this way but we need to take a quicker route than the mountain. Covered 2500km so far. Mid afternoon and we meet up with 6 other teams. We set off in convoy and as usual we are the slowest, even the ice cream van is quicker than us ! We passed passed a coach laying on its side by the road, an obvious result of scary moroccan driving. Pedestrians are not scared to cross the motorway.
The further south we travel, the landscape changes to hot and dry. Whole towns are made of earth. We saw a sheppard praying to allah, next to his donkey by the side of the road.
Our friends, very luckily got us a hotel last night. We sampled our first mint tea which was delicious. Walked to the main square through the historic Marakesh, it was amazing, like walking back in time. We met with Tom, Jodie, Ros and Ceri and ate at a stall in the main square. Alchol is illegal for Muslims to drink and therefore rare. We found a local who took us to a hotel selling beer and stayed with us all night. He spoke to veryone in the group and between us we pieced together what he was saying...
Atmosphere in the hotel was excellent at midnight, a traditionnal band was playing and men were dancing. David was very excited and dancing like the locals. Excellent night was had by all. Nic had a snake round his neck at some stage!
Aujourd'hui nous prenons l'autoroute ; bien sur il y à moins à voir mais nous devons prendre une route plus rapide que celle des montagnes. Nous avons déjà parcouru 250 Km en milieu d'après midi et nous avons retrouvé 6 autres équipes. Nous avons formé un convoi et, comme d'habitude, nous sommes les plus lents même le camion glace est plus rapide que nous ! Nous passons à côté d'un car renversé sur le coté le long de la route, résultat de la conduite effrayante des marocains. Les piétons n'ont pas peur de traverser l'autoroute.
Plus nous nous enfonçons dans le sud, plus le climat change celui-ci est maintenant chaud et sec. Dans les villes les maisons sont faites entièrement de terre. Nous croisons un berger qui prie, à coté de son âne le long de la route.
Nos amis, très chanceux nous ont obtenu un hôtel pour la nuit. Marchant dans le vieux Marrakech, nous avions l'impression de faire un retour dans le temps. Nous avons retrouvé les autres et mangé à un snack. L'alcool est illégal pour les musulmans et donc assez rare. Nous avons rencontrés un marocain qui nous a amenés à un hôtel ou l'ont vendait de la bière et il est resté avec nous toute la nuit. Il parlait avec tout le monde et il a parlé avec chacun d'entre nous et nous avons réussi ensemble à reconstituer son récit…A minuit, l'ambiance dans l'hôtel était excellente, un groupe traditionnel jouaient et des hommes dansaient. David était très « excité » et dansait comme les locaux. Tout le monde a passé une bonne soirée, Nicolas a même eu un serpent autour de son cou !
Day 7
---
january 1st/1er janvier
Marakesh >> Ifni
Hangover and with 4 hours sleep we are heading towards Agadir. We would like to make it to the beach hotel Ifni. I had a bit of an upset stomach this morning, dont know if it was the beer or the food. Nic is fine and driving.
People on the road are friendly and wave to us, last night and today people are very firendly, wishing us "bonne année".
Met up with a convoy and made it to Ifni just before the sunset with team "dingbat and wonbat" and the "roaming nomads"
Avec la gueule de bois et 4 heures de sommeil nous nous dirigeons vers Agadir. J'ai un peu mal au ventre ce matin je ne sais pas si c'est la bière ou la nourriture. Nicolas va bien, il conduit.
Les gens au bord de la route sont gentils et souriants. Hier soir et aujourd'hui, ils nous souhaitent tous une bonne année.
Nous formons un convoi jusqu'à Ifni et nous arrivons avant le coucher du soleil avec les équipes "dingbat and wonbat" et "roaming nomads".
..in the meantime... motherless cats...
pendant ce temps des chats orphelins (ceux de Denise)
Day 8
---
January 2nd/2 janvier
Ifni>>Laâyoune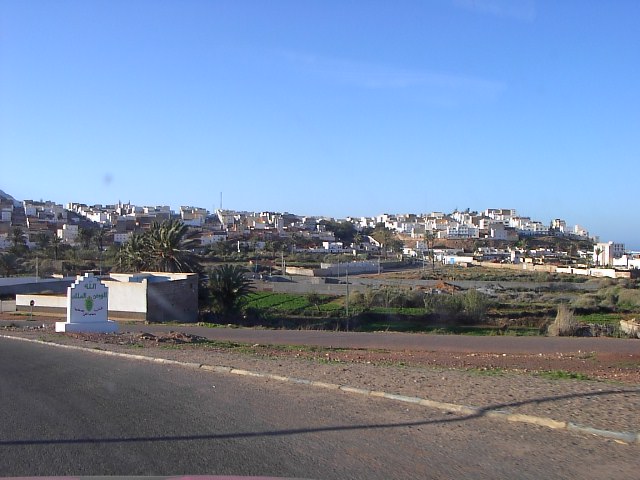 Ifni
We went out for a meal last night. We are all really tired after new Years Eve so we crash out.
In the back room of the resturant some locals were enjoying themselves by playing instruments, singing and dancing.
A typical little shop in Ifni where i bought some water
Morocco and Western Sahara
Day 9
---
January 3rd/3 janvier
Laâyoune>>Dakhla
Its one long straight lonely road from Laayoune to Dakhla. The weather is hot and the air is very dry.
Last night as we approached layoone it's fair to say the lada was suffering. A "clong clong" noise from underneath was trying to tell us something...
We found a garage and located the problem straight away. The Universal Joint of our front driveshaft was abolutely gone. The mecanics were so nice and friendly. One of the mecanics was an eight year old apprentice. The parts and labour are very cheap too. We got a brand new UJ for 8 euros and labour was 15 euros for 3 hours work ! we gave them a radio, pens and a cap to say thank you. In return, they led us to the edge of the city, on the road to Dakhla.
This truck is carrying salt.
We arrived at the campsite just before sunset and it was our first night camping. It was cold and windy...
La nuit dernière, alors que nous approchons de Laâyoune, la Lada souffrait un peu, un bruit qui faisait « clong clong » sortait de la voiture et essayait de nous dire quelque chose…Nous avons trouvé un garage et localisé immédiatement le problème. Le joint universel de notre arbre de transmission avant avait disparu. Les mécaniciens furent très gentils et sympas avec nous. L'un des mécaniciens était un apprenti de 8 ans. Le travail et la pièce de rechange ne sont vraiment pas chers. Nous avons donc eu un joint tout neuf pour 8 euros et la main d'œuvre fut de 15 euros pour 3 heures de réparation !!! Nous leur avons donné une radio, des stylos et une casquette pour les remercier. En retour, ils nous ont conduit en dehors de la ville sur la route de Dakhla. Nous avons quitté Laâyoune à midi et une longue route plate nous a mené à Dakhla. Nous sommes arrivés au camping juste avant le coucher du soleil et c'était notre première nuit de camping c'était froid et venteux.
Day 10
---
January 4th/ 4 janvier
Dakhla >> Mauritanian Border/Dakhla>>frontière mauritaniène
Went into Dakla first thing to get much needed supplies of water, petrol and a blanket. Last night was very cold. Today is supposed to be a rest day but we met up with other teams and decided to head out to the mauritanian border to check it out for tomorrow's crossing.
Nous sommes allés à Dakhla pour chercher des choses dont nous avions absolument besoin : de l'eau, de l'essence et une couverture. La nuit dernière il faisait très froid. Aujourd'hui, nous devions nous reposer mais nous avons retrouvé les autres équipes pour aller à la frontière Mauritanienne pour voir le passage de demain.
We are driving at a pretty relaxed speed and some decided to soak up the sun.
Nous conduisons assez relax et certaines personnes font des choses assez bêtes… (Pas nous bien sur.)
Everything looked fine so we drove back a few km and set up camp in the desert.
Found a nice sandy spot hidden behind a dune we collected fire wood and dried camel poo to make a roaring fire and got drunk.
Tout avait l'air de bien se présenter pour demain, nous sommes donc revenu en arrière et monté notre camp dans le désert. Nous avons trouvé un bel emplacement derrière les dunes, nous avons ramassé du bois et de la bouse séchée de chameau sec pour faire un grand feu et nous avons beaucoup bu.
Day 11
---
January 5th/ 5 janvier
Mauritanian Border to Nouhadibou
We arrived at the border at 10:00am; It took us 2h30 to be allowed to leave Morroco. Slow burocracy...
Whilst we were there waiting, we were approached by a guide who will take us to Nouakchot through the desert. He's a nice man and he speaks french. We went through the landmines with no problem. Went through lots of of other police checkpoints were the guards are starting to demand for "cadeaux" (presents).
Above is a photo of the mauritanian border. The guards work and sleep in a wooden hut made out of palette wood and cardboard.
We arrived in nouhadibou and beeing the 3rd poorest country of Africa it s not very attractive. Lots of banged up cars driving in the street. Camping here tonight at Abbas Camp site and heading off for the real desert crossing tomorrow. The staff are really friendly although the toilets do smell bad. We went for a Chinese in a whore house, which was nice. The next morning we visited the boat grave yard before setting off into the desert...
Nous sommes arrivés à la frontière à 10 heures, et ça nous a pris 2 heures 30 pour quitter le Maroc.Bureaucratie lente…Alors que nous attendions, un guide nous a approché et nous a dit qu'il pourrait nous amener à Nouakchot par le désert. Il a l'air bien et il parle français. Nous sommes passé à travers les mines sans problème. Puis bien d'autres barrages de police ou les gardes nous demandaient des cadeaux.
En dessous voici une photo de la frontière Mauritanienne. Les gardes travaillent et dorment dans des cabanes en bois faites de palettes et de cartons.
Nous sommes arrivés à Nouhadibou, le troisième pays plus pauvre d'Afrique n'était pas très accueillant. Il y avait beaucoup de voiture en piteux état au bord de la route.
Nous avons décidé de camper là pour la nuit en pensant au passage du vrai désert demain...
Day 12
---
January 6th/ 6 janvier
Nouhadibou to Desert/Nouhadibou au désert
Into the desert
The weather is overcast today, not at all sunny, our first bad day of weather. It really feels like we have finally arrived in africa. The people are friendly but very poor. We are in the third poorest country in Africa. As i write this a little girl of about 7 is standing by the car waiting for me to give her something. she is tapping on the car window. Last night, a boy called Baba who works in the campsite gave me a letter asking me to bring him a moped next year. He sends his respect to my father!! This is reputed to be a lawless town run by criminals. We have seen no police at all. Dingbat and wambat had money taken at the petrol station and the guy wasnt the attendant. A group chased and caught him, they go the money back, luckily! We are heading into the desert, currently following another group of teams.

Saw the longest train ever on the iron railway. We took a brand new road for part of the way, the lost boys seemed anxious to drive in the sand, they went off the road in too the sand and we watched the drive off leaving a trail of dust. A huge cloud of dust shoot into the air, as the dust cleared we could see that they had rolled the car. Ceri was the first out with a few scratches and Ross was quick to follow, also unhurt.
The car had come off its drivers side rims. Both front, back and passenger side windows were gone and the roof crumpled. Looking at the cash site i am amazed and thankful they are both alive and remarkably, unhurt. There was a good team effort of first aid, changing wheels, knocking out glass, towing the car and strapping a snowboard to the front windscreen to act as protection. The car works fine, mechanicaly speaking and we set off into the sand.
At last our first bit of desert driving sees all 5 cars stuck in the sand at the same time! With night approaching we start to loose faith in the guide. At last we arrive at a beach and camp, paying 1000um for the pleasure.We refuel and eat, then have a tent party chez Jodie and Tom!
Nous avons visité un cimetière pour bateau et Nico à pris des photos. Le temps est chargé aujourd'hui, pas du tout ensoleillé ; c'est notre premier jour de mauvais temps.Nous avons l'impression d'arriver en Afrique pour de bon. Les gens sont très accueillants mais aussi très pauvre. Nous sommes dans le troisième pays le plus pauvre d'Afrique.Alors que je note ces quelques mots, une petite fille reste à coté de la voiture en attendant que lui donne quelque chose. Elle tape sur la vitre de la Lada. La nuit dernière, un garçon nommé « Baba » m'a donné une lettre me demandant de lui amener une mobylette l'année prochaine. Il m'a donné ses salutations pour mon père.Cette ville est réputée pour être sans loi et dirigée par les criminelles. Nous n'avons vu aucun policier. Dingbat et Wanbat ont été encaissés à la station essence par un homme qui n'était pas l'employé. Heureusement, un groupe d'homme l'a rattrapé et a récupéré l'argent.Nous nous dirigeons vers le désert et suivons un autre groupe.
Nous avons vu le train le plus long qu'on n'avait jamais vu.Nous avons emprunté une nouvelle route. L'équipe des lost boys (« garçons perdus ») avaient l'air inquiet de s'enliser dans le sable, cela n'a pas manqué ; ils sortirent de la route et nous avons observé leur enlisement qui laissait échapper un épais nuage de sable. Comme la poussière disparaissait nous avons vu que la voiture était retournée ! Ceri fut le premier dehors suivi de Ross, tous deux en bonne santé. Les pare-brise avant, arrière et passager étaient brisés ; et le toit froissé… Nous sommes tous bien heureux qu'ils soient sains et sauf. Avec un bon travail d'équipe, nous changeons les roues, remorquons la voiture, nous attachons un snow-board au pare-brise avant en guise de protection…etc. La voiture fonctionne mécaniquement parlant !
A la fin de cette première journée de conduite dans le désert nous avons réussi à enliser les 5 voitures en même temps. Avec l'approche de la nuit nous avons commencé à perdre foi en notre guide. Enfin, nous sommes arrivé à une plage et avons campé, payant 1000 ouguiya pour le plaisir.
Day 13
---
January 7th/ 7 janvier
Desert day 2

We set off again into the desert. A few cars get stuck in sand again and we have to dig them out.
Dinbat and wonbat got a flat tyre wich was easily replaced. The speed of the teamork would rival that of "quick fit" !
Weather is extermly overcat again today. Visibility is limited. Several people have voiced concern about the efficiency of our guide. We were all bombing through te desert when our front tyre popped. The car behind stopped and the 3 other vehicles didnt notice and continued. Luckily Joddie and Tom came back. Tyre as replaced but we realised that we had lost the 2 cars that were at the front with the guide. Luckily we found them again 30 minutes later. Pretty scary to be alone in the desert with no guide...


We carried on through the national park until we came to the edge of it where we had to pay an exit fee and we were surrounded by children demanding gifts. Neice played with the children and they are all running after her... We finish the day with a bit of driving along the beach.
It is the wrong time of day to be doing this and we have to drive very close to the water even in it sometimes, depending of the waves ! We have seen pelicans and huge eagle type birds. Flyes get in the car when we stop. Not very nice... We stop at 4:30 by the water and set up camp. Sand is everywhere, lots of bugs, moths and locusts around us.The tide came in and we moved the cars, the fiat uno got stuck very close to the sea and a team effort got it out. A crab bit Jim's finger. Nic had a locust in his trousers leg when he got into the tent. It was a shock ! Ceri surfed on the beache, pulled by the pajero.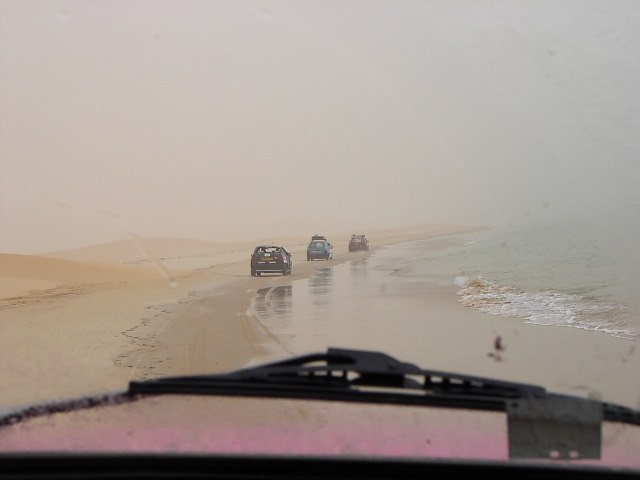 Nous sommes retournés dans le désert et des voitures se sont enlisées à nouveau, nous avons du les sortir du sable…Dinbat et wonbat ont eu un pneu crevé facilement remplacé. La vitesse des équipes de travaille rivaliserait aisément avec celle de « Quick fit ».Le temps est extrêmement couvert aujourd'hui. La visibilité est limitée. Plusieurs personnes se sont plaintes de l'efficacité de notre guide. Nous étions en plein désert quand un de nos pneus avant creva. La voiture derrière s'arrêta mais les 3 autres véhicules avant ne remarquèrent rien et continuèrent. Par chance, Jodie et Tom ont fait demi-tour. Le pneu remplacé, nous avons réalisé que nous avions perdu les deux autres voitures avec le guide. Heureusement, nous les avons retrouvés 30 minutes plus tard. Beaucoup de peur d'être seul dans le désert sans guide.
Nous avons continué dans le parc national et avons du payer pour sortir de celui-ci. Des enfants nous ont demandé des cadeaux et Neice a joué avec eux. Tous les gamins courraient après elle…
C'est le mauvais moment de la journée pour faire cela et nous devons conduire très près de l'eau et même parfois dedans selon les vagues ! Nous avons vu des pélicans et de grandes sortes d'aigle. Les mouches rentrent dans la voiture quand nous nous arrêtons. Pas très cool…
Le sable est partout avec des quantités de punaises, mites et criquets pélerins autour de nous.La marée est arrivée nous avons déplacé les voitures, la fiat uno était restée collée à la mer et il a fallu l'effort de toute l'équipe pour l'en déloger. Un crabe a mordu le doigt de Jim. Nico a retrouvé un criquet dans la jambe de son pantalon en arrivant dans la tente.Quelle surprise!Ceri a fait du surf sur la plage, tiré par la Pajero.
Day 14
---
January 8th/ 8 janvier
Desert day 3 /Dans le désert, jour 3
We set off at about 10am and travelled about 4km to a large dune.
The chaps tried sandboarding and the girls ate pork scratchings !! Neice and nic tried a bit of tutrle shell luge.
It is really overcast again today. Making it three days no sun. We stil have not had a rest day, i am looking forward to chilling at the Zebra bar. Tonight we will stay in a hotel. After 100km beach drive we are finally out of the desert and back on the road again.Driving alonge th beach was good fun. We had one hairy moment when we had to drive throught the waves and avoid rocks.
The lost boys lead the way and all others followed.We are a dry and shalky road to Nouakchott. We arrive at Novotel with lots of otther teams but we decided that it was too expensive and therefore found a cool bohemian Auberge, called La Menata. We (all 8 of us) managed to get ito a taxi, it was so funny, three in the boot and four in the back. We had a lovely pizza and lots of red wine. We all got another taxi home, smaller than the first and stayed to gether in the same room. Thanks for the Photo Ceri.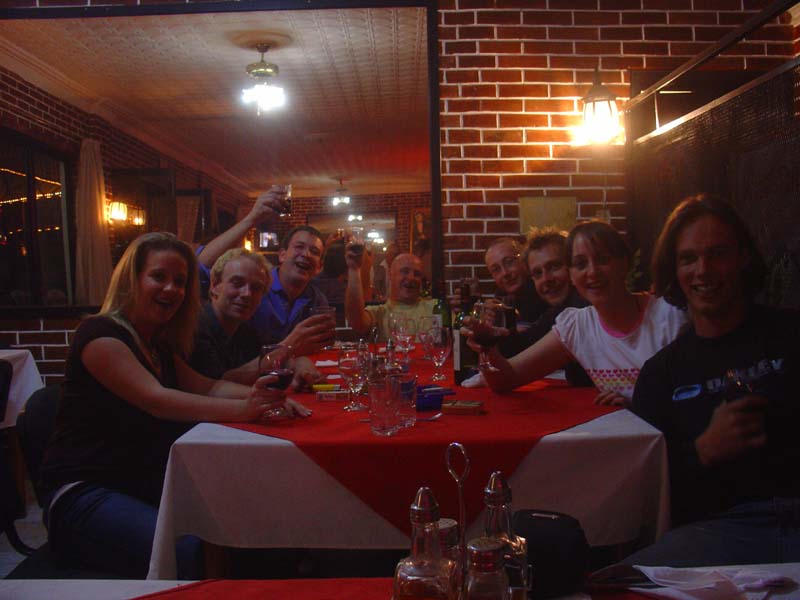 On est parti vers 10 heures du matin et on a parcouru environ 4km jusqu'à une grosses dune. Les gars ont essayé de faire du surf des sables et les filles ont mangé des petits morceaux croustillants de couenne de porc !! Neice et Nico ont essayé un peu la luge avec des carapaces de tortues.
-Aujourd'hui, le temps est encore vraiment couvert. ça fait trois jours qu'il n'y a pas de soleil. On n'a toujours pas eu de jours de repos, j'ai trop hâte de décompresser à Zebrabar. Ce soir, on sera toujours à l'hôtel. Après avoir conduit sur 100 km sur la plage, nous voilà enfin sorti du desert et à nouveau sur la route. C'était super amusant de conduire sur la plage. Il y a eu un passage craignos quand on a du conduire dans les vagues et éviter les rochers.
Les "lost boys" (garçons perdus) montraient le chemin et tous les autres suivaient. La route pour Nouakchott était sèche. On est arrivé à Novotel avec de nombreuses autres équipes mais on a jugé que c'était trop cher et du coup, on a trouvé une super Auberge bohémienne, qui s'appelle La Menata. On a réussi à tous rentrer dans un taxi (les 8), c'était trop marrant, trois dans le coffre et quatre à l'arrière. On a mangé une excellente pizza et bu beaucoup de vin rouge. On a tous pris un autre taxi pour rentrer, plus petit que le premier et on a dormi dans la même pièce.
Day 15
---
January9th/ 9 janvier
Rest day in Nouakchott
Having our first rest day !
Staying in the auberge 'La menata' in Nouakchott. Very cheap but very pleasant with hot showers after the desert. Had communal meals for both lunch and dinner.
We went to a cyber cafe this morning to update the site but the internet connexion is so slow that it was impoible to update photos and it took 2 hours to update text for 2 days !
The lost boys straightened the roof and tried to disguise it by adding the uno's roof rack. Hopefully that hould ease things at the senegalese border.
While we were in the desert the Universal Joint from the back (this time, was front one in morocco...) driveshaft broke. Nic found a spare part and fitted it.
We plan to meet all the other teams at the posh hotel at 8:30 am tomorrow morning .
This evening veryone is just chilling and we managed to obtain some beers although they are forbidden in this country.
Jours de repos à Nouakchott
C'est notre premier jour de repos!
On loge à l' auberge 'La Menata' à Nouakchott. Pas cher mais très agréable avec ses douches chaudes après le desert. On a pris nos repas en commun pour le déjeuner et le dîner.
Ce matin, on s'est rendu à un café Internet pour mettre à jour le site mais la connexion Internet est tellement lente que c'était impossible de mettre à jour les photos et ça nous a pris 2 heures pour mettre à jour le texte pour 2 jours!
Les " lost boys" ont remis le toit et essayé de le camoufler en y ajoutant le porte bagage arrière de la Fiat Uno. Espèrons que ça falicite les choses à la frontière du Sénégal!
Quand on était dans le desert, l'arbre de transmission du join de cardan arrière (cette fois car c'était celui de devant au Maroc...)a cassé. Nico a trouvé une pièce de rechange et l'a monté.
On a prévu de retrouver toutes les autres équipes à l'hôtel chicos à 8:30 demain matin.
Ce soir tout le monde se repose et on a réussi à obtenir des bières bien qu'elles soient interdites dans ce pays.
Day 16
---
January 10th/10 janvier
Into Senegal... Nouakchott >> Zebrabar (St Louis)
We met the other teams outside Monotel and promptly got lost and separated in the crazy traffic of Nouakchott.
We are heading down to Diama as this is a small border and is should be easier than the one in Rosso. Traveling on our own at the moment. Today there is a sand storm and we need our car lights on as visibility is limited. The wind is strong. It's David's 32nd birthday and hopefully we can celebrate with him !
Mauritania is really poor (see photo) and there is and sand and rubbish on the street. People are begging constantly. The out of town houses are that of shanti towns. The road has got enornous holes in it and it makes the drive quite difficult as driving into one of them would get us flat tyres. This is more worrying as our car jack broke in Nouakchott.
We caught up with others and are now in a convoy of 5. Should be 6 but the Thunderbird died in the desert. A terrible shame. Whilst driving towards Senegal we see many small villages that have no signs of electricity, many have wells and as usual goats, sheep and donkeys roam freely. The boarder crossing was not as bad as we had anticipated, taking about 2 hours although it was expensive. After all the paperwork formalities a group of 13 cars are finally escorted to the Zebra bar where we all enjoyed a lovely meal and beers.
-On a retrouvé les autres équipes devant Monotel mais on s'est tout de suite perdu et séparé dans la circulation folle de Nouakchott.
On se dirige vers Diama car c'est une petite frontière et ça devrait être plus facile que celle de Rosso. On voyage tout seul en ce moment. Aujourd'hui, il y a un vent de sable et on a besoin de mettre nos feux car la visiblié est limittée. C'est calme comme on a perdu les autres et c'est l'anniversaire de David aujourd'hui, alors on éspère pouvoir célébrer ses 32 ans avec lui!
La Mauritanie est vraiment pauvre, il y a du sable et des ordures dans la rue. Les gens sont tout le temps en train de mendier. Les maisons en dehors de la ville sont celles des bidonvilles. La route a des trous énormes, ce qui rend la conduite assez difficile vue que si on conduisait dans un des trous, ça nous créverait nos pneus. C'est d'autant plus inquiétant que notre cric s'est cassé à Nouakchott.
On en a rattrapé d'autres et maintenant on est dans un convoi de 5. On devrait être 6 mais la Thunderbird a péri dans le désert. C'est vraiment dommage.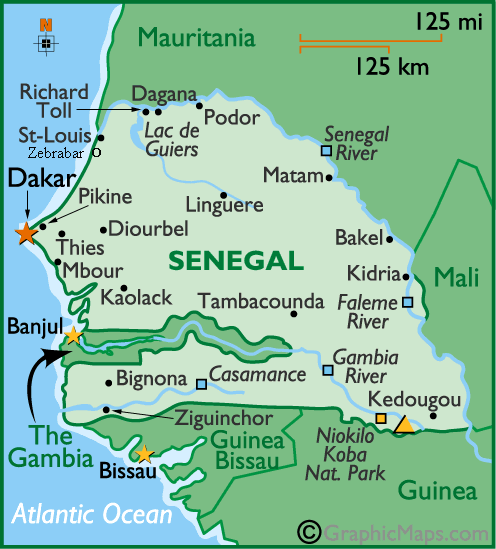 Day 17
---
January 11th/ 11 janvier
2nd rest day - Zebrabar- 2nd jour de repos
We woke and took a long boat to St. Louis. Three boats set out and only the people in our boat were wet from head to toe by the end of the 1.30m crossing. We arrived soaked and salt stained. We walked around the market for a while, Brett had his shoes cleaned and ceri had his repaired. After we went for something to eat and decided to take a taxi back after the terrible arrival by boat.
Après nous être réveillés nous avons pris un long bateau pour St Louis. Trois bateaux ont pris le départ, mais uniquement dans notre bateau les gens ont été mouillés de la tête aux pieds à la fin d'un parcours de 2 km. Nous sommes arrivés trempés et couvrts de sel. Nous avons fait un tour dans le marché, Brett s 'est fait cirer ses chaussures et Ceri se les fait réparé. Après cela nous sommes allés pour manger quelquechose et nous avons décidé de revenir en taxi pour éviter de renouveler le bateau.
Back at the zebra bar we unwind and enjoy a huge BBQ.De retour à Zebrabar autour d'un gigantesque barbecue
Day 18
---
January 12th/ 12 janvier
Leaving Senegal...En quittant le Sénégal
Our official escort was expected at 9.30am. He arrived around 12.30pm. By that point some of the teams had decided to make a break for it and left without the guard only to run into him about 2mk up the road. So We stopped and waited for the other teams to arrive so that we can travel together.
 Notre escorte officielle était attendue pour 9h30. Elle est arrivée aux alentours de midi et demi. A ce moment certains des équipes ont décidé de marquer un arrêt et sont partis sans le garde et ils sont tombés dessus 2km plus loin. Aussi nous nous sommes arrété et avons attendu les autres équipes pour voyager tous ensemble.
As we head out of Senegal the official is in the car with dingbat and wombat. They have to catch a flight on Friday and so thay are in a bit of a rush to get to Banjul.
Quand nous avons quitté le Sénégal l'Officiel était dans la voiture de Dingbat et Wombat. Ils devaient prendre un avion vendredi et aussi étaient-ils assez pressés de rejoindre Banjul.
The road was riddled with pot holes and It was out first time driving in the dark. Due to the amount of cars in the convoy, our pace was slow and by the time we had crossed the Gambian border some tempers had frayed. We had missed the last ferry and found ourselfs locked inside a car park. We had a pasta meal prepared on the bonnet of th lada and we purchased 110 beers from a chap who apeared over the wall. We tried to make it an all nighter but we were just to tired and so we all had a few hours kip before the ferry arrived. Soon we will be in Banjul...
La route était remplie de nids de poule et c'était la première fois que nous roulions dans le noir. En raison du nombre important de véhicules notre allure était lente. Et quand nous avons traversé la frontière gambiène des énervements se sont produits. Nous avions raté le dernier ferry et nous étions enfermés dans un parking. Nous avons fait un repas de pates, préparé sur le capot de la Lada et nous nous sommes procuré 110 bières d'un gars qui était apparu sur le mur.Bientôt nous serons à Banjul.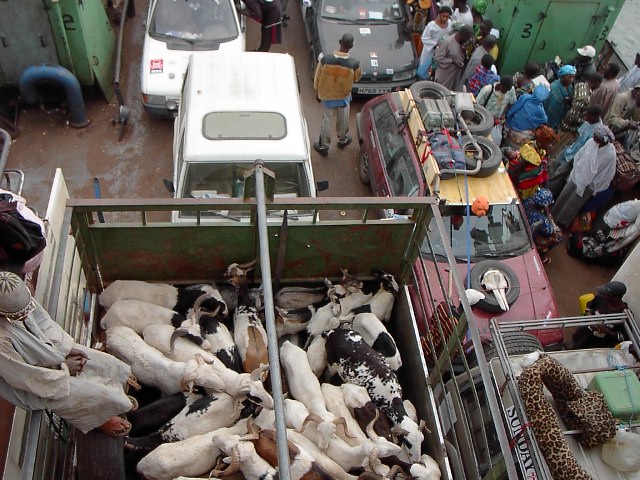 Day 19
---
January13th/ 13 janvier
in Gambia/en Gambie
Soon after arriving in Banjul Tom takes a tumble off of the roof of his car whilst Jodie is driving along the dual carridge way. Luckily he was unhurt and we arrived at the Safari Gardens for a fry up and some champagne care of the lost boys. Checked into Crocodile johns and chilled out for the rest of the day. We celibrate in the evening and play a few party games.
Day 20
---
14th January - Day 20
It was sad to see Brett and David leaving as we waved them goodbye at the airport. We drove the Golf back to Banjul and realised how uncomftable and slow the past 20 days has been in the Lada! We pick up some hitch hikers alonge the way. Fatou Fatty and her sister were heading into Banjul to get some clothes and food items for Tabaski on the 21st of January. They pointed out lots of things to see on the way. We droped them off and then Picked up 4 school girls and took them to Westfield.
In the afternoon all the cars went on a Parade around town and we passed throught the arch 22 which is reserved for the president and other such important people. We met the Mayor of Banjul outside of his building and he welcomed us to the city.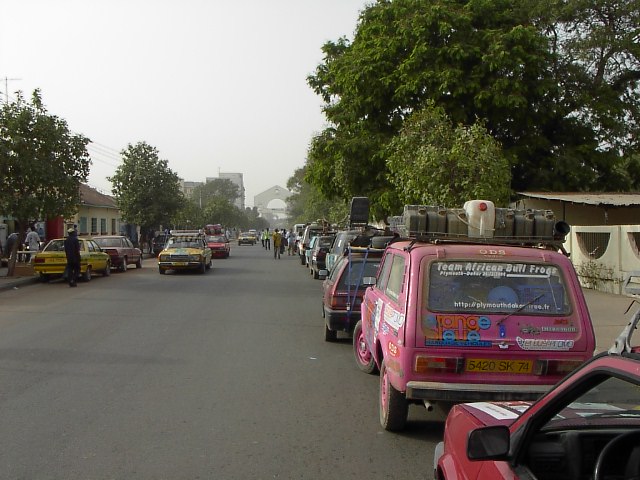 In the evening we went to a meal and watched local performers dancing to the sound of African drums. It was great. Will and others willing joined in the fun.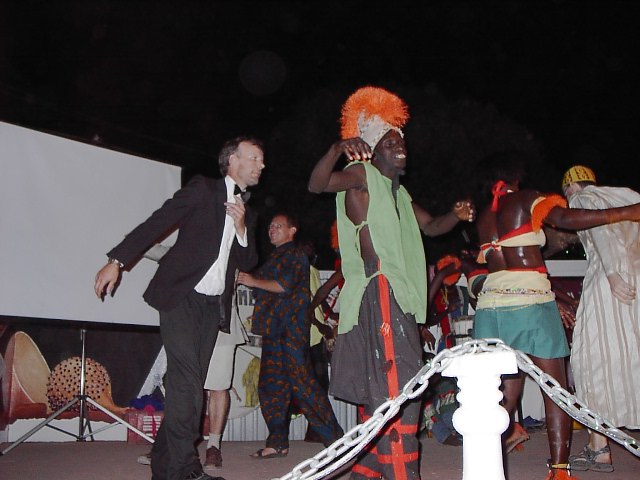 Day 21
---
Day 21 - 2nd Auction
I drove the Golf to the auction and Andy was my passenger. The stadium, where the auction is being held, was about 2k away from the hotel but during that journey i manged to get a flat tyre and didn't notice a red light. Andy was a star and fixed the wheel situation and the car later sold for 42,000 Dalasi.
Day 22
---
Day 22 - Sunday
Today was very chilled. Everyone did their own thing. Nic and i went for a walk on the beach, without the camera, sorry folks!
In the evening we contacted Famara Demba, the Gambian representative of the Derek Baily Foundation. He told us about a school that has a great need for the school equipment that we have bought with us donated by Children from a school in Annecy. We arrange to meet the following day.
Day 23
---
Day 23 - Monday
We met Famara at our lodgings and we headed together to the village of Kebuneth. We visited the Santayalla Nursery School. We were met by some of the 150 students and the three teachers. Ebou IS Tamba is one of the teachers. All of the school equipment has been donated by the school chilren of St. Michel, Annecy, France.
The younger children do not have chairs and tables. Each child has a breaze block to sit on.
The children and teachers were overjoyed with the gifts. The children sung us the Gambian national anthum and their school song. We also visited the medical centre next to the school. We are standing next to Ebou. The Man with the white beard is the Village elder, with him are the teachers and school assistants.
After seeing the children we went to Ebou's house in the village and ate Casava. An African root vegitable. We gave some of the children a lift in our car. After donating the school equipment we finaly have some space in the car and it is immediately put to use.
In the final picture you can see Famara at Ebou's House. The big cashew nut tree in the centre acts as a bench and gives fantastic shade from the sun.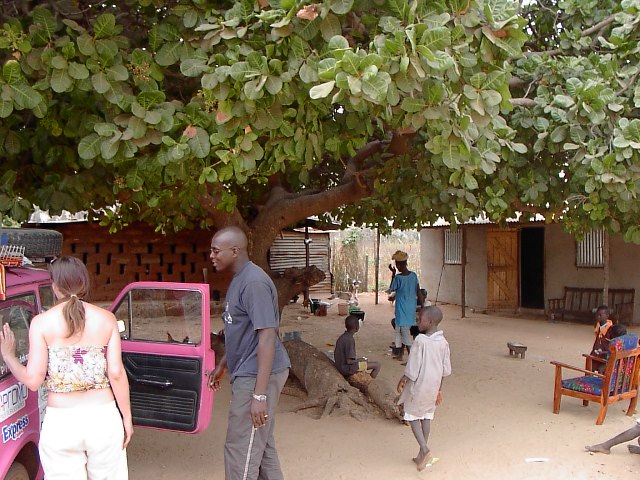 Day 24
---
Day 24 - Tuesday
Most of the other teams left today. We drove some of them to the airport in their vehicles. Nic drove the Tempra back to Banjul, the car with no windscreen and i drove the Uno. A zippy little thing, once i had found first gear! I managed to pull away in 3rd outside the airport with locals shouting advise to use the 1st gear.
Went back to the hotel and sorted out our stuff. We had a look at the map and planned the rest of our week. We decided to head towards east to Tendaba for a few days before heading back to Banjul for the auction on saturday.
Famarah called and invited us to his home for a meal. The food was lovely and afterwards we went to a bar to meet Clemo and some of the other new arrivals from group 3.
Got a good nights sleep ready to head off first thing.
Day 25
---
Day 25 - Wednesday
Nic done some final checks to the car before we headed east along the River Gambia. We were delayed because all the ATM machines were currently out of service so we had to wait for them to come back online befor we could leave Banjul. A late start means we wont make Tendaba tongiht. The road is terrible and full of pot holes. We were told about a camp on the way in Tumani Tenda.
Nic decided to go in a long boat. We stayed the night in a hut with a thatched roof. Unfortunatly we were not alone. A small mouse was inthe room with us making a lot of noise.
The staff wanted to know if we had anything to sell. Knowing that we were going home soon and that we had far too much stuff we had a route around in the car and found some items. An old mobile phone with a broken charger was swoped for our nights accomidation, the food and nics boat trip. Everyones a winner! Nic gave his shoes to the guy with him in the boat, he was very happy although throughout our stay he constantly told Nic that he thinks the French are lazy!
Day 26
---
Day 26 - Thursday
We leave Tumani -Tenda andhead east again towards Tandaba. After a few hours the car starts to splutter. Engine related problems see us stuck down a dirt track miles for anything. Luckily a local man stops to offers assistance and we are soon up and running.
At lunch time we arrive at Tendaba camp. It's on the edge of the river Gambia and it is a great site for bird watching. It is really calm here and i feel like we are the only guests. We have lunch and Nic tried bushpig in Pepper sauce, which he says was delicious. In the afternoon we watched crabs and mud skippers.
We spent the evening watching the tide come in and the sun set.
Day 27
---
Day 27 - Tabaski
We need to head back to Banjul today as the auction is tomorrow. We left Tendaba and took the track back to the main road. As we came around the corner a congragation of people were praying under a large tree.
When they finished we carried onto Banjul, noticing similar celibrations in the villages en route. Back at Crocodile Johns we empty and clean the car.
Day 28
---
Day 28 - 3rd Auction
We go to the Auction early and start to display the car. Lots of people are interested and ask lots of questions.
The car sold for 50,000 Dalasi to Tom and Marie. Thats a thousand pounds. Here's Tom in his new ride.
Day 29
---
Day 29
We meet Marie the following day and she takes us to see some crocadiles and an elephant tree.
In the afternoon we go fishing with Tom on his boat. I caught a captain fish.
In the evening we chill out at the Harbour cafe and then we go to Westfield to get some food with Eric, Robert, Baba, Tom, Marie and Moe.
Day 30
---
Head back in the plane.
What a fabulous adventure we had !